Race Information
The Witch Way 5K is a fun-filled family-friendly evening. Join us as a participant, sponsor or to just enjoy the festivities and cheer on our runners and walkers! Immediately following the race, we'll gather at Long Doggers for a post-run festivities where we will announce the winners and celebrate their hard efforts! There will be trick-or-treating for the kids at the Indialantic Shopping Center.
Click to register online now:

Or print the Runner Registration Form and mail to:
The Town of Indialantic – Witch Way 5K, 216 Fifth Avenue, Indialantic, FL 32903

Highlights:
Each race participant will receive a complimentary t-shirt – while supplies last. Be sure to sign-up early to avoid missing out — they go fast. Please refer to the Schedule of Events below for more details.
Free parking will be available at Nance Park and the boardwalk from 5 p.m. until 9 p.m. for race participants and their families.
A mouth-watering array of refreshments including fresh fruits, breads, water and juices will be provided for all participants.
Race Results will be posted by Running Zone.
Scenic course through the Town of Indialantic that begins and ends at Nance Park on the beach (see map link below.)
Great post race party for the whole family!
Schedule of Events, Awards & Fees: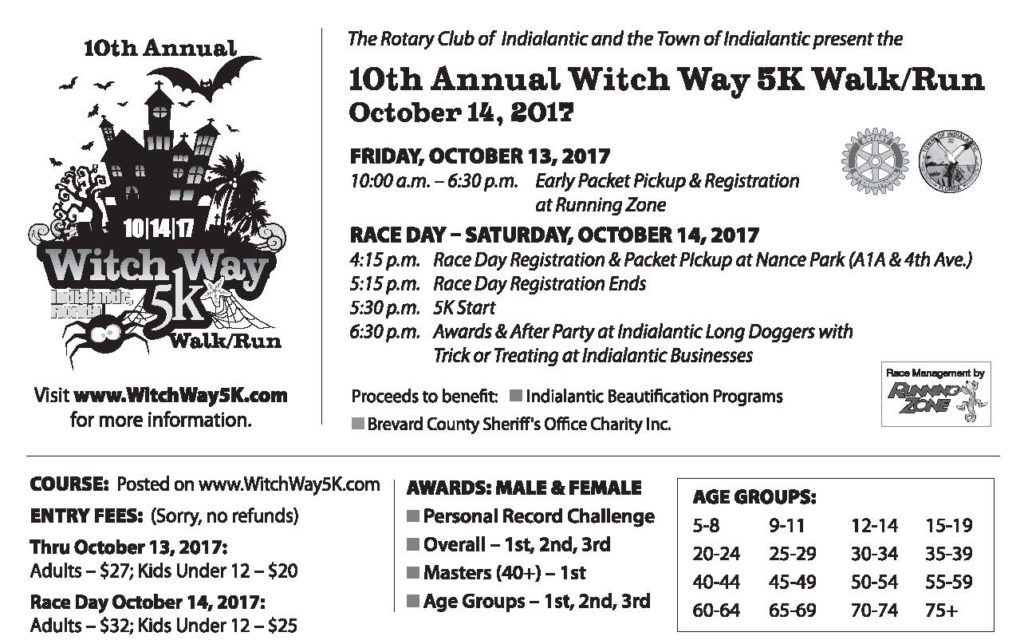 Map & Parking Information:

Questions:
Email us at witchway5k@indialantic.com or call 321-723-2242.
Restrictions:
For insurance and safety of the public, roller-blades, roller skates, skateboards, bicycles, and animals are prohibited from participating in the race.
Save